Royal Air Force Museum Cosford will launch its 'Summer of Spitfire' at the Armed Forces Weekend celebrations taking place on 29 and 30 June. Summer of Spitfire will feature a season of family activities centred around one of the world's most iconic aircraft.   
This family weekend, packed full of nostalgic activities, will offer visitors the first opportunity to step inside the NEW Virtual Reality Zone and experience the thrill of flying in a Spitfire. This brand-new feature at RAF Museum Cosford places you in the cockpit at 10,000 feet in the air for a panoramic view as you might witness in a real Spitfire flight. With the use of VR goggles, fun-focussed visitors can enjoy a 6-minute flight and see first-hand what it's like to taxi and take-off in a Spitfire, and of course….no flight would be complete without a circuit of the airfield, including low passes and looping the loop, before landing and taxiing back to the hangar.
The footage, developed exclusively for the RAF Museum, is the first of several new Virtual Reality trips aboard real aircraft to become available, with additional flights arriving soon. The experience costs just £5 per person and is suitable for visitors aged 13+. Doors to the six new VR stations will open on 29 June; this is just one of the many exciting activities taking place across RAF Museum Cosford during Armed Forces Weekend.
Re-enactors, period settings, engine demonstrations and military and civilian vintage vehicle displays will bring the Museum to life with authentic experiences nestled amongst the historic aircraft on display. Exclusively for the Summer months, the Museum will display its rare photo reconnaissance Spitfire PR. XIX alongside the World's oldest Spitfire Mk I.
WHAT'S ON over the Armed Forces Weekend:
Learn how the plotting table played a vital role for the pilots flying missions
Join a former Avro Vulcan pilot and his team preparing to scramble under the wings of the real aircraft
View the airships display and find out more about their use during the First World War
'Greyhounds' play, a second World War Theatre performance by Time & Again Theatre Company on Saturday 29 June (£5 per person).
Find out how sea mines were recovered and detonated, or in some cases not, during special talks
Take a closer look inside the cockpit of the world's oldest Spitfire and enjoy a rare view of the photo reconnaissance Spitfire PR.XIX beside it.
Walk amongst the Second World War tents, meet members from Women's Voluntary Service and take part in rifle and bayonet drills
See a range of military and civilian vehicles on display
Climb inside the Hawker Hunter and McDonnell-Douglas Phantom cockpits, and get a feel for what it was like to fly in these aircraft
Meet the pilot and find out more about the Japanese Kawasaki Ki-100b
Watch as RAF Bomber Command ground crew prepare themselves for a mission, including the Women's Auxiliary Air Force
Watch Rolls-Royce Merlin Mk.500 and Bristol Hercules Mk.216 demonstrations
Dress up in RAF attire and grab some props from the Museum's handling collection and take photos as a memento of your day
Families can enjoy decorating their own Armed Forces flag to take home
Share your stories and personal connections to the RAF with the Museum's RAF Stories team who will be on site capturing contemporary stories relating to the RAF for the digital online collection
The Museum's restaurant will be serving a selection of Armed Forces treats all weekend
(Vehicles and re-enactment groups subject to change.)
The 'Armed Forces Weekend' will run from 10:00am to 5:00pm on Saturday 29 and Sunday 30 June 2019. The Museum's Summer of spitfire programme will conclude on September 1st at the sell-out Spitfire 10K.
---
Further Events for the Summer of Spitfire experience at RAF Museum Cosford will include the following…
Come and take part in a range of exciting Spitfire related activities this summer.
Virtual Reality Zone: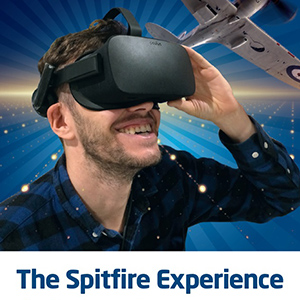 Date: 1 July – 1 September
Time: 9.00am -5.00pm
Price: £5.00 per person
New for Summer of Spitfire is the Virtual Reality Zone featuring the Spitfire VR Experience which gives visitors the thrill of flying in a Spitfire! This brand-new exhibit puts you in the cockpit and 10,000 feet in the air. Once you're wearing the VR goggles you can enjoy a fully interactive panoramic view of a real Spitfire flight. The experience is recommended for those 13 years and older.  For more information head to rafmuseum.org/whatson
---
 Spitfire Photo Reconnaissance PR. XIX PM651: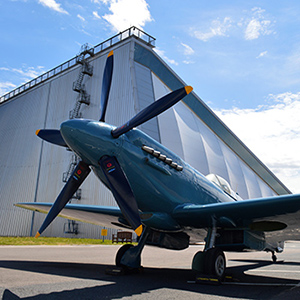 Date: 1 July – 1 September
Time: 9.00am -5.00pm
Price: Free of charge
Following its appearance at the Cosford Air Show this past June 9th, the museum's Spitfire PR. XIX will be displayed alongside the world's oldest Spitfire, a Mk.I in the Museum's War in the Air hangar. The two aircraft side-by-side will illustrate the diverse roles in which the Spitfire served, ranging from a fighter interceptor to high altitude photographic reconnaissance. The much more modern PR. XIX has a number of pointed differences to the Mk.I on display at the Museum. It is fitted with the much larger  and more powerful Rolls-Royce Griffon engine as opposed to the Merlin used in earlier models, a five bladed propeller in comparison to the Mk.I's two-blade unit, and was notably faster than its predecessor. The PR.XIX also had fuel tanks in the wings (instead of machine guns), far greater range, a retractable tail wheel making its profile more streamlined, and a pressurized cockpit, critical for high-altitude reconnaissance flights.
---
Behind the barriers for the world's oldest Spitfire Mk 1: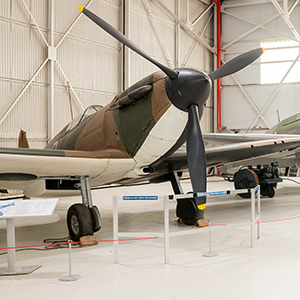 Dates: 30 July, 6 August, 13 August, 20 August, 27 August
Time: 10.30am–2.30pm
Price: Free of charge
Join us every Tuesday where we will be offering families an insight into life as a Spitfire pilot by offering a chance to get a closer look inside the cockpit. Climb the steps and see inside the world's oldest Spitfire. As well as getting up close to the aircraft, families can try on clothing and uniform from the era – perfect for an unusual family photo, so don't forget to bring your camera!
---
Spitfire Selfie Station: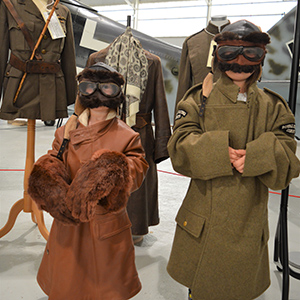 Date: Wednesday 31 July, 1 Wednesday 4 and Wednesday 28 August and Thursday 8 August and Thursday 22 August
Time: 10.30am-3.00pm
Price: Free of charge
Grab a giant Spitfire Selfie prop and pose in front of the world's oldest Spitfire – what will you choose; giant flying googles, a pilots hat or a novelty moustache?  Don't forget to bring your camera!
The Spitfire Selfie Station will take place on Wednesday and Thursday from 31 July – 22 August and is FREE of charge, places do not need to be booked in advance.  Charges apply for the personalised merchandise.
---
 Spitfire Story Telling: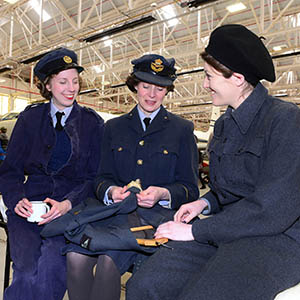 Date: Thursday 1 August, Wednesday 7 August, Thursday 15 August, Wednesday 21 August and Thursday 29 August
Timings: 11.30am, 12.30pm and 2.30pm
Price: Free of charge
Detail: Come and find out more about the most iconic aircraft built with three different story telling sessions per day.
11.30am: The Aircraft:  An introduction to the Spitfire; find out about who designed the aircraft, why it has become so iconic, learn more about its weapons and more…
12.30pm: It's most famous hour: With the destiny of Britain hanging in the balance in August 1940 the RAF had to defend the skies to help prevent an invasion of the green and pleasant land! Join us as we tell the story of the Battle of Britain and how the Spitfire was involved along with some of the other aircraft on display in the Museum.
2.30pm: Get dressed for battle! Over the lifetime of the Spitfire pilots looked very different, find out what they wore and why as we go from the 1930s to the 1950s. Dressing up opportunities galore!
Talks are free of charge and will take place next to the Spitfire in our War in the Air Hangar.
---
Large Model Air Show: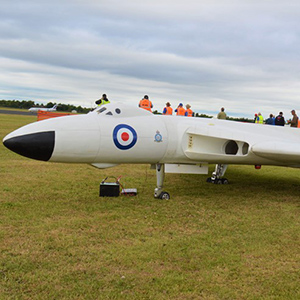 Date: 6-7 July
Time: 10.00am – 5.00pm
Price: Adult £8.00 advance, £10.00 on the day, children under 16 free (must be accompanied by an adult)
Scale models of iconic aircraft will take to the skies including a fleet of model Spitfires. Plus, there is family entertainment, pilots zone, vehicles display and refreshments on sale.
Find out more
---
Cosford Food Festival: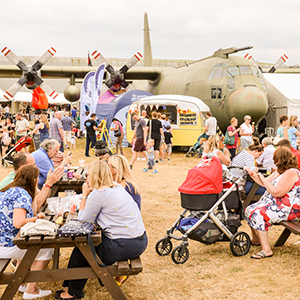 Date: Saturday 20 – Sunday 21 July 2019
Time: 10.00am – 5.00pm
Price: Adults £6.00, Children (5-15) £2.00, Family (2 adults/up to 4 children) £14.00
Fine food and flying machines at our popular Food Festival with over 100 exhibitors to tempt your taste buds! There will also be cooking demos, music, kids corner and new Gin Flight masterclass.
Find out more
---
Vintage and Handmade Festival: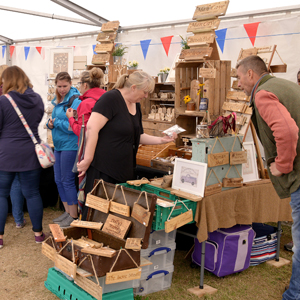 Date: 17-18 August
Time: 10.00am – 4.00pm
Price: Adults £5.00, Children (5-15) £2.00, Family (2 adults/up to 4 children) £14.00
Over 50 local creators showcasing their handmade and handcrafted products and carefully selected vintage wares. Plus, live music, mini makers craft tent, vintage fairground and much more!
Find out more
---
Spitfire 10K (SOLD OUT)



Date: 1 September
Time: 10.00am
Cost: 10K Standard entry £22.50 (15+ years)

The Spitfire 10K will give 1,500 participants the unique opportunity to race across the airfield at RAF Cosford. Taking-off from the Museum's Hangar 1, runners will begin the race with a loop of the Museum site before heading onto the airfield at RAF Cosford. Participants will run alongside the wartime hangars, the air traffic control tower and of course, the race wouldn't be complete without a sprint down the runway! The scenic route around the military airfield will take runners past several historic landmarks along the way and then it's back onto the Museum site to cross the finish line. Upon completion, runners will be rewarded with a highly sought-after bespoke 2019 Spitfire 10K medal, a perfect and well-earned memento of their day.
---
 Spitfire Family Run: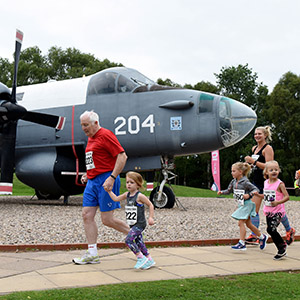 Date: 1 September 
Time: 9.15am 
Cost: £5.00 (suitable for all ages)
The Spitfire Family Run is suitable for families with younger children. This gentle run will follow a shorter 1km race route around the Museum grounds and past iconic aircraft. Each registered runner will receive a special medal upon completion. The race is suitable for all ages, but children under 11 years must be accompanied by an adult.