Virginia's largest all-warbird air show is set to return over the weekend of October 2nd and 3rd, 2021. Be sure to mark the date in your calendar for a trip to Pungo, Virginia to see the aircraft of the
Military Aviation Museum
(and friends) strut their stuff. It is always a fantastic affair and such a great venue as well.
Early bird tickets at lower rates are still available.
Here are the show details so far…
---
Gates Open 9:00am-5:00pm
The show schedule will include aircraft flight demonstrations from both our World War I and World War II collections, with live vintage music, WWII Living History displays, Veteran meet and greets, great vendors and an Aviation Exploration Station filled with family activities!
Preliminary Schedule:
Saturday
9 am – 11 am Ramp Open (View the airplanes up close)
Daily Live Entertainment Schedule: TBA
Noon – National Anthem, Flying Demonstrations Begin
Saturday Featured Aircraft
WWII US Navy Aircraft Collection (incl. PBY, Corsair, Wildcat, etc.)
WWII US Army Air Forces Collection (incl. P-51, B-25, P-40, etc.)
WWII British Aircraft Collection (incl. Spitfire, Mosquito, Hurricane, etc.)
Sunday9 am – 11 am Ramp Open (View the airplanes up close)
Daily Live Entertainment Schedule: TBA
Noon – National Anthem, Flying Demonstrations Begin
Sunday Featured Aircraft
WWI Aircraft Collection (incl. Replica Fokker Dr. I, Replica Sopwith 1 ½ Strutter, etc.)
WWII German and Russian Aircraft (incl. Yak-3, Ju 52, Bf 109, etc.)
WWII US Aircraft Collection (incl. mixed Army and Navy aircraft, P-51, Corsair, etc.)
Living History Presenters:
Want to participate in the show as a Living History presenter, or to register your group to set up in the living history camp area? Submit your information online HERE.
WWII & Korean War-era Veterans:
World War II and Korean War Veterans and one guest receive free admission, special parking, & seating in a designated veterans' area. (Preregistration is requested HERE)
VIP Tickets:
Get a prime view of the show in the new VIP chalet! Chalet guests enjoy admission to the show, front line access to the flight line, shaded view of the air show, pilot meet & greet, chairs, free water, and snacks.
Show tickets are available for purchase on the Day-Of. Ticket prices increase on August 28th, and again on September 26th. Save up to 30% by pre-purchasing your tickets today!
For more information, please call (757) 721-7767.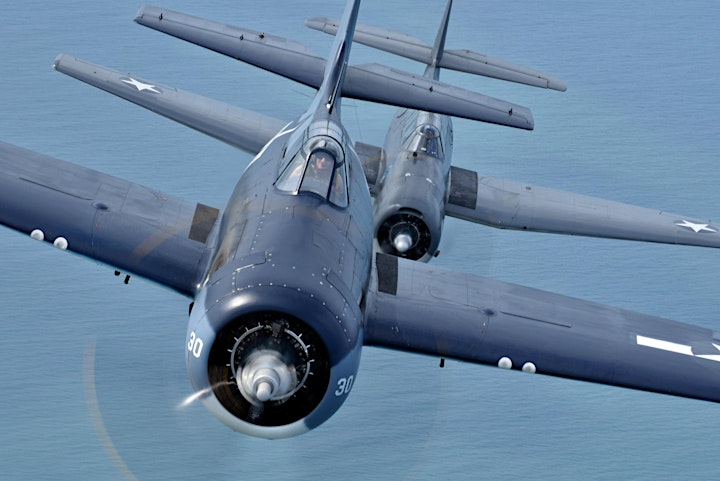 Cancellation:
Please note that this event is rain or shine, and that performing aircraft are subject to change without notice. Flying performances are weather and maintenance dependent and may be canceled or substituted for ground demonstrations as necessary.
Event admissions support the Museum and its efforts to Keep 'em Flying. In the event that state regulations change due to COVID, preventing the event from being held on the specified dates, tickets will be honored for new dates, but refunds will only be considered on a case-by-case basis.

COVID Safety:
The staff of the Military Aviation Museum is keeping a close eye on the evolving situation with COVID. At the present time there are no specific restrictions on the event, but updates will be provided to attendees if state regulations change prior to the show. As always, we will continue to work to ensure that the event follows the guidance of the Virginia Department of Health and is compliant with any issued Executive Orders.
For those looking for a major air show in a magical, intimate setting, it really is hard to beat the Military Aviation Museum's Warbirds Over the Beach air show held at their main campus in Pungo, Virginia. There is something for everyone who is a regular reader here, from a reconstructed Luftwaffe hangar to an original WWII airfield control tower from Royal Air Force Goxhill, to re-enactors of every stripe, to one of the world's finest collections of airworthy WWII-era aircraft from several sides of the conflict (British, American, German and Russian). For more information about the event and the museum, visit www.militaryaviationmuseum.org.